Bev.
So, Beverley and I had a photoshoot at my house a while ago.
Bev.

We also had a discussion about love at her house a few days ago, and you must check out her blog (a-bev-blog.blogspot.com) and read about what she has to say.
Bev.
Some of the pictures turned out pretty well. We were both in a creative mood.
Erin Meagan.
They were shrunken down when I uploaded them onto blogger, but at least you get a glimpse of what we were up to.
Erin Meagan.
That's me wearing a dress that I got at VV a while ago. It was so darling and made me feel like a princess, so I bought it. I really hope that there is an occasion coming up that I could wear it to. Theme party, anyone?
I don't normally post photos of my meals, but this one was very tasty. I am a big believer in eating cake whenever I can!
Thanks to everyone for commenting and telling me their responses to my question. I love hearing from all of you!
Nicola(insidethecabinetofwonder.blogspot.com) tagged me with a tag that I've been wanting to do for a while.
The rules are:
1. Respond and rework. Answer the questions on your blog, replace one question you dislike with a question of your own invention; add a question of your own.
2. Tag eight other un-tagged people.
What is your current obsession?
I am currently spending a lot of time decorating my bedroom. I love decorating it.
What are you wearing right now?
Right now I am wearing a pink cardigan and a green tank top from Old Navy and a floral skirt that I bought from VV, but it was originally American Eagle.
Who was the last person you hugged?
The last person I hugged would have to be my friend, Mistu when she came over and visited me the other day.
How many facebook friends do you have at the moment(or any social networking site)?
I'll have to go check. *one minute later* I have seven hundred and seventy eight friends. Does that even make sense? Oh my!
What's for dinner?
I am hoping for pizza, but with my luck, we are probably not having it.
What was the last thing you bought?
The last thing that I bought was cupcakes.
What are you listening to right now?
Right now, I am listening to the We Just Touched Awkwardly song.
Currently I have a few CDs, mostly mixes, my alarm clock, a green picture frame, and fancy cards with envelopes.
Say something to the person/s who tagged you.
Your blog was one of the first I read, and it is such a pleasure to know that you read mine now too!
If you could have a house totally paid for, fully furnished anywhere in the world, where would you want it to be?
New York.
Where are you typing from right now?
My basement!
A book you're currently reading?
I am currently re-reading Alice's Adventures in Wonderland.
What would you like to have in your hands right now?
Anything Spring Awakening related. I love that musical.
What is your favourite tea flavour?
Belgium Chocolate.
What film means so much to you?
This is a really hard question to answer. Rent, Odd Girl Out, or the Parent Trap(Lohan version).
If you could go anywhere in the world for the next hour, where would you go?
I would go to an intense dance workshop, or a cozy secondhand book store.
What did you want to become as a child?
A teacher.
Who was the last person you sang with?
My brother.
I'm going to tag anyone who wants to do this, because I really can't pick only eight people, as all of you are just so full of awesome!
Like I said in the first question, I have been working on changing my bedroom..gradually. The walls of my bedroom are the same as this next picture. I've posted a few pictures, all from ourbedrooms on livejournal. Inspiration. (Sorry if they are cut off or huge)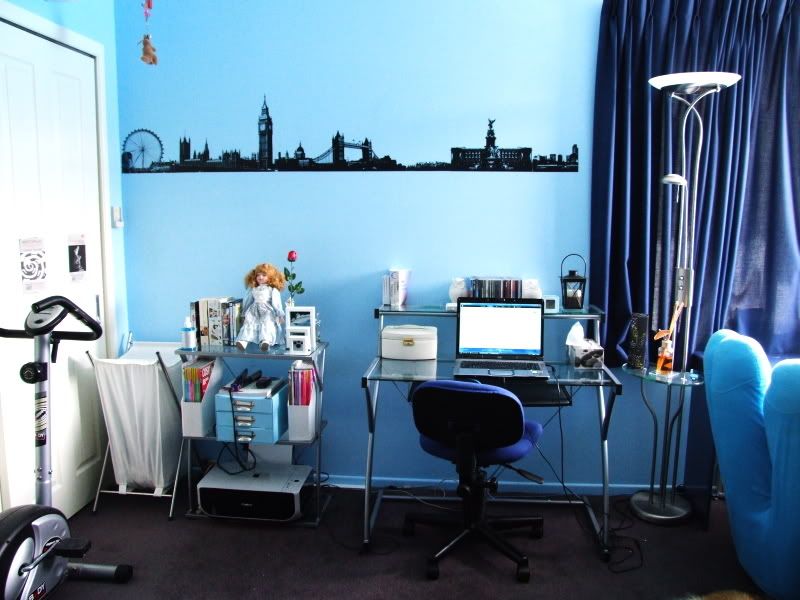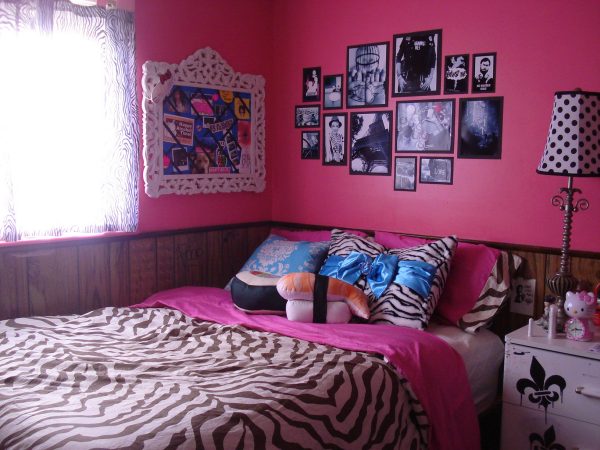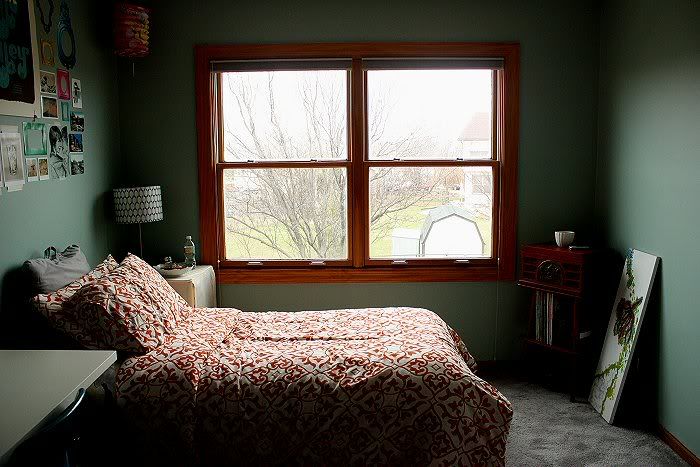 This Spring break, I hope to do something fun everyday. Of course, today was surfing the internet. I found this crazy site, check it out!